The Kern River
Valley
A PICTORIAL TOUR & DESCRIPTION OF
THE KERN VALLEY COMMUNITIES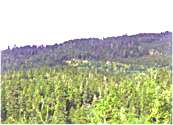 Alta Sierra – This area is located in the Greenhorn Mountains, approximately eight miles northwest of Wofford Heights. Access to this quiet mountain top retreat is a steep climb, given that the road goes from 2500 feet to 6500 feet in just eight miles. It is worth the drive because you will find a whole new world; one that is dramatically different from the valley floor. In this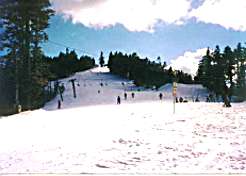 eight mile drive (which by the way, takes only 15 minutes), you will find some of the most beautiful tall pines and cedars that you will ever see. Yes, it does snow here, so bring your winter gear. Located here, at very reasonable prices, are many mountain cabin getaways, large chalets for large families and permanent residences for your relaxing pleasure. Outdoor activities include snow skiing and snow boarding at Shirley Meadows Ski Resort which has six runs, cross country skiing, snowmobiling, mountain biking and hiking. All of this is found just 15 minutes from the valley. What more can you ask for??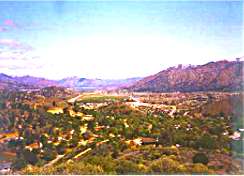 Bodfish – This area is located on the south side of the Kern River Valley. There are three distinct geographical areas within Bodfish that are known as "Bodfish Oaks", "Bodfish Canyon" and "Canyon Meadows". The terrain is mountainous, covered with oak and pine trees, natural forage and seasonal creeks. Many properties have beautiful views of the valley and mountains. Available in this area are inexpensive mobile homes on lots and acreage (property owned) to custom homes and mini ranches. Bodfish Canyon is home to many horse lovers. Most of the properties here provide lots of "elbow room" between neighbors. Bodfish has a small commercial area to serve this community that includes small businesses, restaurants and antique shops.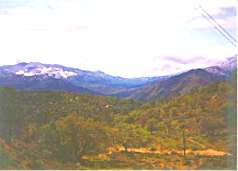 Havilah - The beautiful and picturesque Havilah Valley is located just south of the Kern River Valley ( a short 20 minute drive over "Hooper Hill"). A lot of the Valley's rich mining history is found here. Most of the gold and minerals mined in the Valley passed through Havilah on the stagecoach trail that led to Los Angeles (remnants of this trail are still visible today). In the mid 1860's, Havilah was the Kern County Seat. The old courthouse and school have been preserved and operate as museums today. A trip through the Havilah Valley is like "going back in time".
Within this large area are the geographical areas known locally as "Caliente", "Piute Meadows Ranches", "Havilah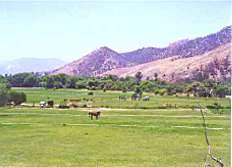 South Ranches", "Walker Basin" and "Twin Oaks". This entire area is very pastoral in nature. The properties here range in size from one acre parcels all the way up to ranches having hundreds of acres. The vast majority of the area is zoned for horses and large animals. Here, as in most of the Kern Valley market area, you will find a mixture of manufactured homes, small cabins and large ranch homes. This area is perfect for those who want to "get away from it all". If you're looking for that quiet and peaceful lifestyle or if you've been dreaming of owning a mini-ranch, then the Havilah Valley and surrounding areas just may be perfect place for you.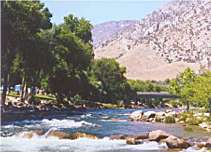 Kernville – This town is located along the "Wild and Scenic" Kern River which is the main contributory to Lake Isabella. The Kern River is fed by snow melt from the Sierra Nevada Mountains. The water is clear, cold and full of rainbow trout. Once named Whiskey Flats, Kernville has Whiskey Flat Days celebrated in February of each year, which has a parade, rodeo exhibitions, vendors and plenty of good times, all of course with a wild and western theme. The geographical areas surrounding Kernville are locally known as "Cyrus Canyon", "Frontier Homes", "Hanning Flat", "Riverkern" and "Robinson Cove".
Kernville has outstanding restaurants, motels along the Kern River, Bed and Breakfast accommodations, antique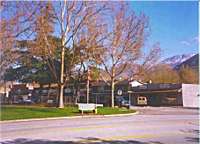 stores, specialty gift shops, camping and RV parks. Outdoor activities includes, fishing, white water rafting, kayaking, camping, hiking, and horse back riding. The town of Kernville offers beautiful custom homes with beautiful mountain views, river front properties, picnicking along the Kern River, all in a quaint western atmosphere. Kernville is a great place to live and a great place to visit.

Just south of Kernville is the local airport which provides service for small private planes. The runway runs north to south over the lake and has it's own small campground. Reservations are required for camping. The airport has radio communications during the daylight hours, a small cafe, fueling station and hangers offering minor repairs, if needed.
Lake Isabella - This is the commercial hub of the valley. This area is located at what you might call the center of the valley where the Lake Isabella dam is found. Here you will find the shopping center, restaurants, and small retailers. Lake Isabella is also home to a very nice senior living community. The Kern County administration complex is located here. Lake Isabella is the location of Scovern Hot Springs which is a historical site that once had as patrons, the old Hollywood movie makers and movie stars the likes of Tom Mix, Roy Rogers, Hopalong Cassidy, John Wayne and many others. The geographical areas found within the area of lake Isabella are known as "Keysville" (site of the annual Keysville Classic mountain bike race), "Lakeland Estates" and "Yankee Canyon".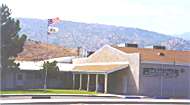 Lake Isabella offers commercial and business opportunities as well as residential properties all located within minutes of town. To the south, are found secluded ranches, acreage and recreation properties, some with year round streams. There is easy access to beautiful Lake Isabella where you'll find swimming, jet skiing, water skiing, sail boarding, fishing, boating, camping and hookups for recreational vehicles. Freeway 178 enters and ends at Lake Isabella. Access to all the communities of the Kern River Valley comes through Lake Isabella.

Mountain Mesa – This nice town is located approximately 6 miles east of the town of Lake Isabella. It is a very small rural community along the south shore of Lake Isabella. Commercial properties along Highway 178 provide shopping, small businesses, restaurants, etc. to the area. Kern River Medical Center, the largest hospital and medical center in the valley is located in Mountain Mesa. Mountain Mesa is a very nice residential community providing very easy access to and just minutes away from the south shore of Lake Isabella.

Southlake Area – Southlake and its sister community, Longview, are located 3 miles east of Mountain Mesa close to the south shore of Isabella Lake. These quiet communities offer peaceful enjoyment of the rolling hills and high mountains. Many manufactured homes on spacious lots at very affordable prices are found here. On the north side of Highway 178, bordering the shore of Lake Isabella, is the location of "Southshore Estates". Here you will find level and completely usable 2 &1/2 acre parcels, zoned for horses. In this area you will find large and beautiful estate sized homes. A nice place to live.

Squirrel Valley – South of Mountain Mesa overlooking Isabella Lake is beautiful Squirrel Valley. This community is the full time home of many local residents. Squirrel Valley offers beautiful homes on acreage zoned for horses, riding trails, mountains, pine and oak trees, gorgeous lake and mountain views. Many locals choose Squirrel Valley for its seclusion from tourist activity, privacy, enjoyment of the natural beauty and wildlife. If this describes what you are looking for, take a good look at Squirrel Valley. You'll fall in love!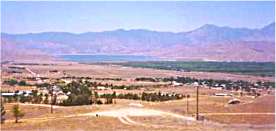 Weldon - The Kern Valley's rich ranching and cowboy history still lives in it's pastoral settings. The "Southfork Valley" can trace it's settlement history back to the 1860's. This area is home to the highest altitude and largest contiguous "Great Valley" riparian cottonwood and willow forest in the State of California. Here you will find the geographic areas and hamlets locally known as: "Bella Vista", "Fay Canyon", "Hillview Acres", "Kelso Valley", "Lakeview Ranchos", "Onyx" and "Valley Estates". Most of the property in this area is zoned for large animals developed with homes and manufactured homes to large farms, horse ranches and working cattle ranches. The definition of country living is found here - plenty of open spaces, seclusion and beautiful scenery.
A bit of both local and California history is found by visiting the "Onyx Store" located on Highway 178. This is the oldest, continually operating store in the State of California. It was originally opened in 1861.

Wofford Heights (Known As The "Heart" Of The Kern River Valley) – Before the work began on Isabella Dam in the late 1940's, the area that is now known as Wofford Heights was a vast ranch owned by Irven Wofford. Scores of western movies were filmed here during the 1920's and 1930's. Located approximately six miles southwest of Kernville, and along the north shore of Lake Isabella, Wofford Heights offers a business center with restaurants, the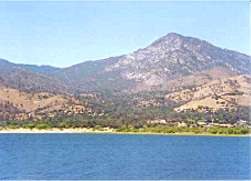 valleys only movie theater, the Elks Lodge, RV parks, small shops and antique stores. Some of the areas located within the Wofford Heights geographic area are: "Hungry Gulch", "Isabella Highlands", "Mountain Shadows", "Pala Ranches" and "Wagy Flat".
Dotting the hills above the lake are homes and manufactured homes, many having breathtaking views of Lake Isabella, the valley and the mountains beyond. Many homes are on large parcels and acreage's which provide lots of peace, privacy and seclusion. Lots of city people own weekend/vacation homes in this area due to the quality of living and easy access to the lake. The town is also the gateway to the Greenhorn Mountain Winter Recreation Area of the Sequoia National Forest. If this fits your style, by all means check Wofford Heights out.

2000 CENSUS DATA FOR SELECTED CITIES IN KERN RIVERVALLEY

LAKE ISABELLA
Population: 5,500
18-64: 48.3%
65 and up: 30.7%
Avg age: 49.4

ONYX
Population: 653
18-64: 51.5%
65 and up: 25.7%
Avg age: 50.6

BODFISH
Population: 1,951
18-64: 51.5%
65 and up: 29.1%
Avg age: 49.6

WOFFORD HEIGHTS
Population: 2,510
18-64: 47.3%
65 and up: 38.2%
Avg age: 58.1

KERNVILLE
Population: 1,871
18-64: 50.0%
65 and up: 30.0%
Avg age: 51.9

---